Early Bird Reservations
MAKE SURE YOU DON'T MISS OUT
If you've got your eye on a special Briar Home but it's not officially released for sale yet, don't worry. You can reserve with our Early Bird Scheme and make sure that you don't miss out. Be an early bird and have first refusal on your home today. Contact us and register as an Early Bird. Pay your deposit and then sit back and wait for your new home to be released.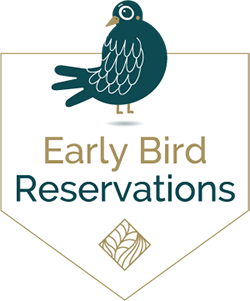 BE AN EARLY BIRD AND RESERVE YOUR PERFECT HOME
If you're interested in a specific plot but it has yet to be released for sale, you can make sure you don't miss out by using Early Bird. Simply pay your deposit and then you'll get first refusal before it goes on general sale. Your deposit is fully refundable so you've got nothing to lose.
EDEN GROVE EARLY BIRD PLOTS
Plot 3 – The Ash - Fixed Price £245,000
Plot 4 – The Ash - Fixed Price £241,000

WOODLEA EARLY BIRD PLOTS
Sorry currently none available, please check back at a later date.
Move fast and don't miss out on your favourite plot.
Early Bird Reservations
As easy as 1,2,3…
1) Choose your Early Bird plot.
2) Complete an Early Bird reservation form, pay a fully refundable deposit and then simply wait for your home to be released for sale.
3) When the release date approaches, we contact you to give you first refusal. Your deposit is then transferred to a standard reservation.
You've got nothing to lose
If you change your mind or your circumstances change, your deposit is fully refundable. So you've got nothing to lose except the chance of securing your dream home if you don't reserve early.
What is an Early Bird Reservation?
Early Bird Reservations are offered on developments where demand is high. It enables our customers to reserve one of our plots where we are unable to give an exact completion date. An Early Bird Reservation gives our customers peace of mind that they can secure their new home prior to it being released to the open market. As the plot release date approaches, we will contact you to give you first refusal before it goes on general sale. All being well your deposit will then be transferred to a standard reservation.
How do I make an Early Bird Reservation on a new Briar Home?
Contact Briar Homes. You will be asked to complete an Early Bird Reservation Form detailing the Terms and Conditions of the reservation. A fully refundable £500 deposit will then be organised for payment finalising the Early Bird Reservation process. From your initial contact declaring interest, you will then have 24 hours to complete the reservation process, not until the Reservation Form and payment have been received will the plot be updated to reserved. Should any delays occur the plot will be re-offered to the Waiting List (unless otherwise agreed) when the 24-hour period elapses.
How do I check my affordability?
We can easily facilitate a telephone appointment with highly recommended Mortgage Advisors. We advise you seek advice prior to completing an Early Bird Reservation.
I am a First Time Buyer, what is the First Home Fund?
Receive up to £25,000 as an equity loan towards the purchase of your first home (subject to T & C's). Find out more about the Scottish Governments initiative designed to support First Time Buyers here: https://www.gov.scot/policies/homeowners/first-home-fund/ Further information should be sought with advice taken from a Mortgage Advisor.
I do not have a solicitor yet; do I need one for an Early Bird Reservation?
No, not for the initial Early Bird Reservation process. Although we will need solicitor details from you as soon as possible thereafter. We are happy to recommend local firms so please do not hesitate to ask us for advice.
I've completed my reservation and would like to start the mortgage process, what is the next step?
We can arrange for a recommended Mortgage Advisor to get in touch to clarify the process for you.
I cannot sell my own property until 'Lockdown' is lifted, can I still reserve?
We appreciate these are unprecedented times and we will do our best to accommodate most situations on an individual basis.
I have a property to sell, what happens now?
If you are interested in one of our homes but your own home is not yet on the market panic not, we offer expert help and can guide you through the next steps with our quality and service assured local Estate Agents (Given present circumstances telephone, desktop or virtual valuations are being offered).
Register your interest now! Contact Briar Homes using the following form…
Design Packages
Ask about Interior Design Packages - flooring, window dressings & light fittings.
Stunning Showhomes
Visit our beautiful showhomes - get in touch today for further information.

This information is provided for guidance only. It is not intended to form the basis of any contract. We reserve the right to alter the layout, design and dimensions of each property without notice. Whilst every effort has been made to ensure that the information contained is accurate, it is provided for guidance only. Prospective purchasers should satisfy themselves as to the accuracy of the information. Please note that external house treatments and finishes vary from development to development, please ask your Sales Advisor for more information.